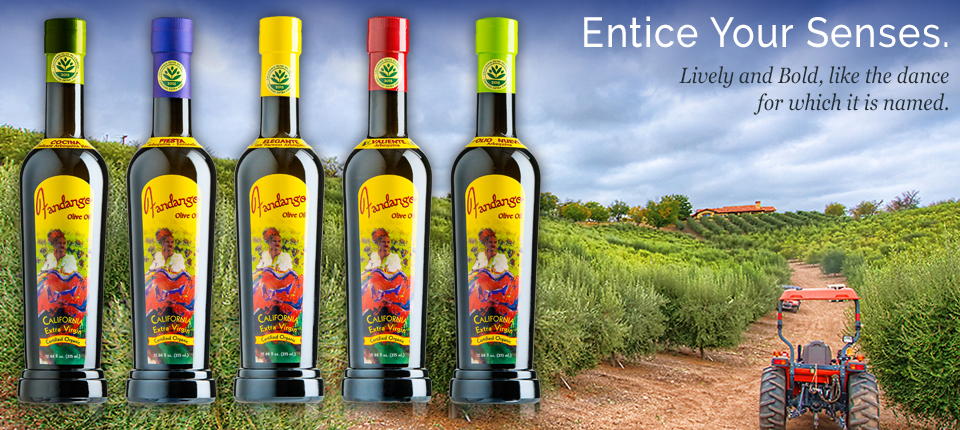 Certified Organic Olive Oils from Paso Robles


Fandango Olive Oil is produced from olives that are grown on our small family farm located on the West side of Paso Robles, in the sunny hills of California's Central Coast. We grow Arbequina, a Spanish varietal and Koroneiki, a Greek varietal. All oils we produce are certified organic by CCOF and certified "extra virgin" by the California Olive Oil Council.

With an eye toward preserving good soil fertility for future generations and a sustainable food supply, we use earth friendly farming practices to manage our weeds and critters. We follow a deliberate organic approach and strictly avoid the use of harmful pesticides or petroleum-based synthetic fertilizers. We plant cover crops grown from organic seeds, both as erosion control and to naturally put nitrogen back into the soil.
After harvest, our estate grown olives are milled within mere hours of picking to minimize the oxidation process. This assures that you will get the freshest oil possible at the peak of its flavor.
Like the dance for which it is named, Fandango Olive Oil will entice your nose and excite your palate with its lively taste and bold finish.
Old World, Imported Vinegars
You our loyal customers asked for it and we listened. And because we are olive farmers not grape growers, we sourced our vinegars from other farmers. After spending almost three years tasting countless numbers of vinegars from many different regions, we found these vinegars which are imported from Italy.

They are produced by an artisan vinegar company in the old world tradition. We sincerely feel they are of a superior quality to be great companions to our award winning extra virgin olive oils. We are excited to share them with you and hope you make them an addition to your culinary collection.